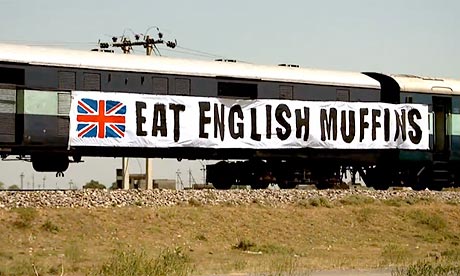 We were watching the Top Gear Christmas Special repeat the other day. The one where they go off to misbehave in a tenuously transport-related way in India. Yes, I know Clarkson is a bit of an arse and it's all just big boys playing with toys and being silly, but it's funny.* Truth be told, I sometimes rather envy them having a job where you can just muck about being as stupid as you can get away with (and then some) while getting paid rather well for it.
*It's light entertainment with political correctness unapologetically left on the doorstep and intended to be crass and laddish.   Like Marmite, you either love it or hate it and I love Marmite.
Anyway, that isn't the point. We were sitting there watching this thing with the children. I'll assume that if you haven't seen it, you've probably seen the outraged coverage somewhere and cut straight to the point. At one point the banner reading "Eat English Muffins" that they had strung up on the side of the train tore in a strategic place. Given the rather bushy theme over Christmas, much hilarity ensued for all, before DD (aged 8 ) piped up, "What does 'muff' mean?"
Quick as a flash, I replied, "It's one of those furry things you use to keep your hands warm. You know…" <knowing gleam in DH's eye,  incomprehension in DD's> "…You know – you've seen the ones I sell at Medieval Fayres" <seraphically innocent smile on face>
"I wonder how much longer we'll be able to get away with that kind of thing?" DH asks me later, as we giggle over double entendres, the daily bush card and other smuttiness, like the self-referential quandry of Schrodinger's Cat (the pussy must surely be in the box?). We all have our not-so-childish pleasures, I suppose.