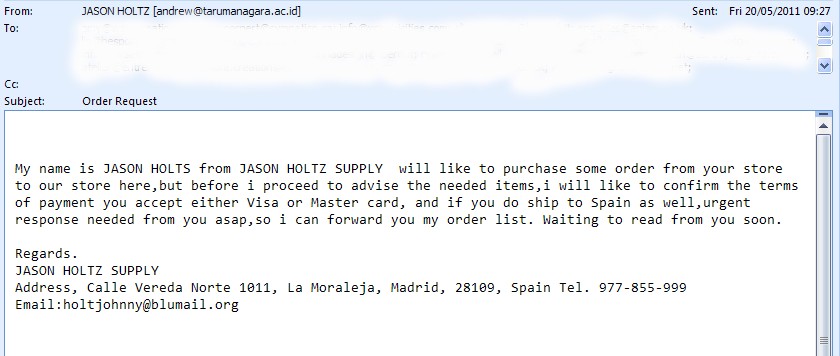 Dear Jason,
Or should that be Andrew, or perhaps Johnny? I'm not entirely clear to whom I should address my response to your enquiry, as your email has come from Andrew, presumably on behalf of Jason, but you want me to reply to Johnny. I assume these are your brothers? Although, you do seem somewhat undecided as to whether your surname is Holtz, Holts or Holt.  Perhaps you are just business partners with very similar surnames?
So, Jason, I see that you have sent out a mass mailing to a great many establishments of a similar nature, which explains the unspecific nature of your enquiry. I'm afraid this does nothing to engage my enthusiasm for doing business with you. It shows a lack of seriousness and commitment on your part. I mean, if you really want to do business with someone, it is best to have that personal touch,  wouldn't you say, Andrew?
So, Andrew, I see that you have contacted me from the Indonesian university of Taramunagara. Is this where your procurement department is based? Only it does seem rather a long way to go if you need to get the shop in Madrid open each morning. Or perhaps Johnny and Jason do that?
I'm quite impressed with the international nature of your business, though I would suggest that you supply an International Dialling Code with your phone number so that eager suppliers can seal the deal more quickly. I'm sure that you can Google the correct code for Spain if you're not sure.
Unfortunately, I don't accept Visa or Mastercard payments directly, so it is with great regret that I must decline to do business with your stunningly professional organisation. I do hope that your venture gets everything it deserves.
Sincerely,
A M Knott-Aneejit